With Outdoor Team Building most of our time is spent encouraging our clients to embrace the freedom. Being out of a meeting room gives everyone the change to get some fresh air, try new challenges and really get immersed in what they re doing. Yes, we keep one eye on the weather but, to be honest, it rarely beats us – as long as everyone comes along suitable dressed and with the right attitude.Scroll down and have a look through at the great activities we offer, click on and of the links for further information and print off the appropriate pdf as required.Alternatively, give us a ring and we'll happily make a few recommendations.
We'll help your team get to grips with a series of tasks and activities that will stretch the mind and body. We start easy but as the confidence of the team builds we introduce more and more difficult tasks. Will your attendees rise to the challenge and get through to the end of the session?
Flat Pack is one of the most competitive and challenging activities we run. At first it appears quite simple to complete the construction of the pieces – but they only go together one way. Eventually, the teams get into the rhythm of building the pack but then realise they are competing against other teams.
Lego Land is another popular activity – the blocks can be the usual size or giant versions from which to build bridges, archways or perhaps even your company logo. We also run a sneaky Chinese whisper version which is tough but gets teams competing against each other.
Paper Bridge sounds simple but, like the majority of our tasks, it requires good teamwork, plenty of thinking and creativity. We provide a brief sheet and a box of materials with which to construct a paper bridge. It sounds easy but there are fees for using too much – being frugal with time and materials will help the winning team.
This is a popular activity for larger groups. Groups log to be creative so we provide everything they will need to complete a stunning picture. Groups can be tasked to increase collaboration and communication by pairing individual pictures that must join together to form one overall image. These should be taken away and hung somewhere prominent back at the office or workplace. Groups always surprise us with how good their paintings turn out.
Each team is given a zone to work in and a whole heap of materials to create a chain reaction across their area – linking their contraption to the team before and after theirs. Frantic design, construction and testing leads to the final run. Will it all work and deliver the final crescendo? Only time will tell.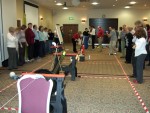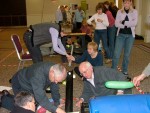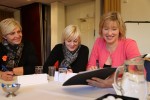 Make a Million is a flexible team activity that sees attendees competing against each other. From the off, they are presented with a series of tasks that range from easy through to hard (some close, some far away) all with differing reward points. With careful planning they work out the best way to achieve their goal of making a million before the other teams.
This is ideally suited to smaller teams with specific aims. The programme is very flexible and is designed around your exact requirements and outcomes. We can use any location – although remote areas are best. We ensure adversity is tempered with success to ensure teams leave motivated and with a deeper understanding of their issues and challenges.
Rafting is always a popular activity with groups as long as they are given prior warning and come prepared. We have a variety of scenarios to test out the skills of the group. Whatever they manage to complete, it's always great fun and full of laughter – especially as the managers can get soaked too. !
This is another of our creative activities that can be used as a one-off task to break up your meeting or conference, or it can be combined with other challenges to make a half or full-day. Teams construct a pathway of tubing in which runs a gold ball – the winning team will have the slowest ball – sounds easy but this is really quite challenging – brings out the best in your teams.
Our ever-popular high ropes course has a good selection of activities that will keep 24 'climbers' occupied. For larger teams we add other activities to ensure everyone keeps busy. We can tweak the challenges to ensure everyone finds their limit, whether comfortable with heights or terrified. Attendees learn much about themselves and their colleagues on this great activity.
Come along to your chosen destination and enjoy a fantastic treasure hunt for you based around the themes and objectives of your day. You can take one of our off-the-shelf solutions or we can build something unique to your company. It can be based around cities or rural areas and be as challenging or as relaxed as required.
This is a challenging and entertaining activity to really get your team going. It provides a multitude of variations as we set the teams against each other to complete tasks – and always under pressure. Will they find the elements to enable them to diffuse the bomb? We spread the clues over the venue grounds and make it as challenging as you think the teams can handle.
Triathlons
We have a passion for all things triathlon. We are able to create, organise and run a triathlon event for your company or team. It can be as long or as short as you like (dependent on fitness levels and timescales. We have a number of locations around the country where this activity can be run. As a relay event it also makes a great team activity.