"Team building" has become a bit of a buzzword in the past decade or so, and team building events have been a huge success for much, much longer. Besides being a lot of fun, these kinds of exercises are a fantastic way to help your team grow together. While most team building exercises promote the most obvious benefits, team building, there are actually plenty of secret benefits that many do not know about. Here are five benefits to team building that come from the energy, excitement, and lessons learned during team building exercises.
1.  Help Solidify Your Corporate Culture
Corporate culture is an important aspect of your business because it involves almost everything your company does. From human resources issues to customer or client experience, your corporate culture is key to your success, and team building exercises can help you set your corporate culture. With the right team building activities that emphasize the values and goals you have for your company's culture, you can help reinforce the right aspects so everyone is contributing and perpetuating the culture your company wants.
2.  Define Leadership
While team building exercises often emphasize communication and teamwork, they can also help solidify leadership roles. With the right team building exercises, you can actually identify people who make good leaders, or you can test out the leadership capabilities of people in your organization and help develop their skills. Then, when they head back to the office, you can restructure to take advantage of their skills.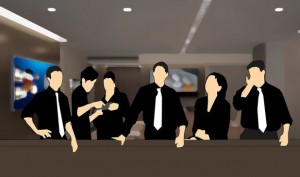 3.  Discover Hidden Talents
One of the most exciting things that can happen in team building exercises is how people can display surprising talents and capabilities. This happens most often in leadership, where people step up and take charge in the exercises, but other talents can come up, too, depending on the exercises you choose to do with your team. This is where a professional team building event company can help. They can guide you through the many different advantages of various activities to help you determine how to tease out the hidden talents of your team.
4.  Responsibility
Small and large businesses have problems with responsibility. For small businesses, unclear responsibilities and people handling multiple functions can lead to the issue of who is responsible for what, and who is to blame when the ball is dropped. In larger organizations, passing the buck is much easier, meaning people don't always have to take responsibility. Team building exercises can encourage your employees to take responsibility, both in accepting new responsibilities and in taking ownership when something happens.
By accepting responsibility and having a space where owning mistakes is handled with the proper procedures, your company can become a better workplace where more time is spent doing good work and less time is spent finding someone to blame.
Team building exercises have many different benefits far outside of the usual ones people know of. If your company wants to take full advantage of team building, be sure to contact us as we can help your company grow, develop, and change towards further success.